We will list SOME of the exceptional talent here, check back often as we update and add MORE MAGICAL NAMES.


ONE name will NOT be revealed until the first day of the convention!  In fact, he will be our OPENING LECTURER!
You won't believe your eyes when you see who YOU will get to meet IN PERSON in 2018!
TIM SONEFELT
FROM:
Anderson, South Carolina  
AbraCORNdabra is thrilled to have this gentleman joining us this year! 
Tim Sonefelt is the first performer to be selected as South Carolina's Magician of the Year.  He has been a leader in the field of Children's Magic as an author, creator, lecturer and conference organizer.
Tim has perfected the art of silk printing and has created dozens of routines, and the beautiful custom silks necessary to perform them, for the magic community. Some of Tim's idea's include, Creativity at Sea, the Family Entertainers Magic Cruise!  His philosophy and approach to magic at schools, libraries and churches has been published in M-U-M and the KIDabra Journal. He has presented his lectures throughout the United States, Canada and England.
Tim Sonefelt's Website – http://www.timsonefelt.com/
Make sure to check out Tim's booth in the magiK-MART Dealer's room!
Wonder Imagery Website – https://www.wonderimagery.com/
 ********************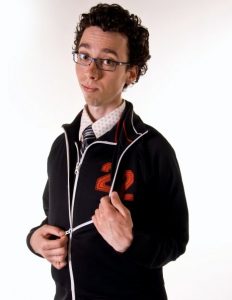 JONATHAN BURNS
FROM:
Johnstown, Pennsylvania
Born with the gifts of flexibility, curiosity, and goofiness, Jonathan Burns now uses these unique talents to astonish audiences around the globe. Over the course of his career, his talents have taken him to over 400 college campuses across the United States and to special events in 9 countries around the globe.   He has also performed stunts on The Jay Leno Show, the Late Show with David Letterman, & The Late Late Show with James Corden, and La France a un incroyable talent (France's Got Talent). He's been dubbed "Extremely Funny" by The New York Times, and was named "Variety Artist of the Year" by Campus Activities Magazine…………………………………………….. TWICE! 
One of his most recent appearances was on Penn & Teller's FOOL US TV show.
Featuring a package of cheese slices, two assistants from the audience, some small wind chimes, and….
Jonathan Burns.
Appearance Clip on Penn and Teller – 
Jonathan will lecture on Physical Magic Comedy as well as make a guest appearance in the Saturday Night Gala Show!
********************
BILL SMITH
FROM:
Las Vegas, Nevada
Through his company, Bill Smith's Magic Ventures, Bill builds boxes that can compress a person to just 18-inches tall and giant spinning fans that allow magicians to walk through unharmed.   Bill Smith has built props for magicians from David Copperfield and Penn & Teller to Lance Burton and Johnny "The Great Tomsoni" Thompson.   
Bill's job is to build objects that mask the magician's secrets, he is the man behind the illusions.  
While magicians like David Copperfield and Penn & Teller receive all the attention and billboard space, Smith has quietly produced illusions for each of their acts. 
AbraCORNdabra is excited to have one of the "Unsung Heros" with  us this year, as he will share his vast experience and stories working with the Pros, as well as head up a panel discussion on performing with large stage illusions.  Bill rarely makes Magic Convention appearances…
What makes this EXTRA special is…
He has family IN DES MOINES, IOWA!
Magic Ventures Website – http://www.magicventures.com/
 ********************
THE OTHER BROTHERS
FROM:
Las Vegas, Nevada
They are Wild.
They are Wacky.
They are Brothers (???)
Daryl and Darryl are magicians from Las Vegas, Nevada whose unique act has taken them from performing in talent competitions to being the judges. They will have you laughing and scratching your heads at the same time. At moments the audience is filled with side-splitting laughter, and the very the next, they'll be screaming in sheer disbelief, at the perfect illusions these two create.
Daryl & Darryl will not only perform solo spots in our exclusive Sangrene Close-up Parlors, they will also present an entertaining and informative lecture that has received rave reviews from across the country.  From close-up miracles to mind-boggling mentalism, there is something for everyone with these two Brothers…
The other Brothers Website – http://www.otherbros.com/
********************
JOEY VASQUEZ & JOSEPH DANIELS
THE DARK CABARET
FROM:
Columbia, South Carolina
AbraCORNdabra steps "over the dark and mysterious line" for the first time in our 8 years of magic conventions….  Best described as "Spooky or Haunted Magic" – we bring you direct from the East Coast, the Award-winning show that plays to sold out, S.R.O. houses weekly.
Joey & Joseph promise "quite an interesting evening of paranormal entertainment."
The Dark Cabaret is an evening's excursion into the twilight realm of the unexplained.   Sometimes chilling, sometimes mysterious, the show is a genuine theatrical experience, hearkening back to a wide array of influences, from 19th-century parlour entertainments to Rod Serling's "The Twilight Zone," featuring a mischievous imaginary friend, a haunted doll, and "things that go bump in the night".
This story-driven show takes audiences on a trip into supernatural territory. Vazquez & Daniels personally involve the audience. It's sort of immersive theater that follows a bit of a jazz format. Depending on the choices the audience makes, the show can go in a lot of directions. They call it "Mystery Entertainment".    They don't do that to be non-specific.   The audience very much governs how the performance goes. … Some call it the ultimate "Choose Your Own Adventure."
This will be a special intimate atmosphere'd show presented in a particular room, in the Airport Holiday Inn, that has been closed off & never used by AbraCORNdabra, being opened JUST for this show…
………then sealed back up. 
Be forewarned, AbraCORNdabra attendees.
"Something wicked comes this way." 
The Dark Cabaret Website – http://www.thedarkcabaret.com/
**************************************
DAVID CHARVET
FROM:
Portland, Oregon
DAVID CHARVET is one of the magic world's foremost historians.  He has written over a dozen award-winning books on magic history and the great performers of its past.  He is also recognized for his performances bringing the great magicians of the past back to life.  AbraCORNdabra is very excited to have Mr. Charvet joining us this year, as he will be lecturing and appearing in the Saturday Night FUNdrasier Gala Show with "MEMORIES OF BLACKSTONE"
David Charvet Website –

 http://charvetmagic.com/
**************************************
OSCAR MUNOZ
FROM:
San Antonio, Texas
Oscar joined our AbraCORNdabra Family Staff several years ago.  He is our Master of Ceremonies for our Big Gala Show at Hoyt Sherman Place each year, as well as our Contest Manager. 
This year, Oscar has additional duties as we have created a special event JUST for our very special KERNELS Young Magi!    A select few magicians will join Oscar as they mentor our Kernels ~ Young Magicians with a private Critique Session & Free Lunch after their performances in the KERNELS YOUNG MAGICIANS SHOWCASE SHOW.  We are calling this event the "JIFFY POP PARTY"
This is exclusively for the Kernels and Oscar's hand-picked staff of magicians only.
For more information about the JIFFY POP PARTY – check out "SPECIAL STUFF"
Oscar Munoz Website – http://www.oscarmunoz.com/
 ****************************************
RUDY COBY
FROM:
Las Vegas, Nevada
We are very excited to announce the addition of Stage & Television Magical Star, Mr. RUDY COBY!
Rudy is the star of his own hit TV specials for NBC and FOX television networks, as well as appearing regularly at the World Famous MAGIC CASTLE in Hollywood, California.  Considered to be one of the most creative working magicians in the World, Rudy mixes science with magic to produce his truly one-of-a-kind acts that have people talking around the World.  This has made him a World-Famous Magician – and he will lecture on that very subject Sunday May 20th!
Mr. Coby will also bring to life some of his more famous illusions Saturday night in the Public Gala FUNd Raiser Show benefiting the Big Brothers & Big Sisters of Central Iowa at the beautiful Hoyt Sherman Place in Des Moines, Iowa.
OUR VERY SPECIAL GUEST MYSTERY MAGICIAN
From: ?????????????

He will be our featured guest on our AbraCORNdabra Collectible Coin Series for 2018.  This year – the folks who register during our 24 HOUR/ONE DAY ONLY Early Bird Registration Day (January 18th, 2018) – will receive in the mail ONE CLUE as to who the 2018 MYSTERY MAGICIAN will be…
For more information about the COLLECTIBLE COIN SERIES – check out "SPECIAL STUFF"
We are not even going to put ANY hints or clues as to who the Mystery Magician is here!  2018 is going to have a few FUN CHANGES – including tightening up the clues to WHO THE MYSTERY MAGICIAN IS!!!  A true LIVING LEGEND OF MAGIC!!!
****************************************
KEITH WEST
Des Moines, IA
Returning for his eighth year, Keith West joins the cast of all star magicians in the Saturday night Gala Show!  A local favorite,  Keith's illusions and cast of beautiful female assistants – "The Illusioneers", are always a feature of our Saturday night evening gala show & he is one of our TOP supporters of AbraCORNdabra!
Keith West Website – http://entertainmentgroupcomedy.com/magicians/KeithWest/keithwest.html
****************************************