We will list SOME of the exceptional talent here, check back often as we update and add MORE MAGICAL NAMES.


ONE name will NOT be revealed until the first day of the convention! This person will be our MYSTERY MAGICIAN for 2020.
You won't believe your eyes when you see who YOU will get to meet IN PERSON at AbraCORNdabra 2020 – It's gonna be a ROARING GOOD TIME!
ALEX RAMON
FROM:
Richmond, California
SPECIAL SURPRISE ARTIST
FROM:
Hollywood, California
TO BE ANNOUNCED LATER
********************
MISS KATALIN
FROM:
Budapest, Hungray
********************
JOSEPH GABRIEL
FROM:
Las Vegas, Nevada
********************
PAT HAZELL
FROM:
Austin, Texas
********************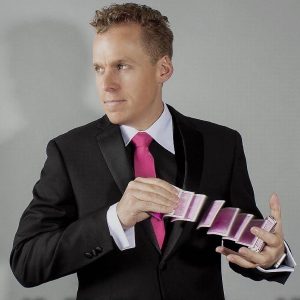 DAVE JOHNSON
FROM:
Las Vegas, Nevada
********************
KEVIN HELLER
FROM:
Auburn, Indiana
********************
BEN ULIN
FROM:
West Des Moines, Iowa
**************************************
CHRIS RAYMAN
FROM:
Nashville, Tennessee
**************************************
OSCAR MUNOZ
FROM:
San Antonio, Texas
Oscar joined our AbraCORNdabra Family Staff several years ago.  He is our Master of Ceremonies for our Big Gala Show at Hoyt Sherman Place each year, as well as our Contest Manager. 
Continuing with a tradition we started in 2018, Oscar will again be over seeing a special event JUST for our very special KERNELS Young Magi!    A select few magicians will join Oscar as they mentor our Kernels ~ Young Magicians with a private Critique Session & Free Lunch after their performances in the KERNELS YOUNG MAGICIANS SHOWCASE SHOW.  We are calling this event the "JIFFY POP PARTY"
This is exclusively for the Kernels and Oscar's hand-picked staff of magicians only.
For more information about the JIFFY POP PARTY – check out "SPECIAL STUFF"
Oscar Munoz Website – http://www.oscarmunoz.com/
**************************************
In honor of our special 10th Year Anniversary, we are bringing in Las Vegas' NUMBER ONE BALLOON TWISTER & EVENT DECORATOR…
RONNIE JOHNSON
FROM:
Las Vegas, Nevada
Many of the event planners, Fortune 500 companies like Macy's, Fortune 100 companies like Sysco, Clark County schools, and even the city of Las Vegas turn to Vegas Balloon Twister, Ronnie Johnson for their balloon decor and twisting needs.  Ronnie is flying into Des Moines with more than 2,000 balloons to decorate our Ballroom for our super special OscEARs Awards Party!
YOU DO NOT WANT TO MISS THIS EVENT!
OUR VERY SPECIAL GUEST MYSTERY MAGICIAN
From: ?????????????

This person will be our featured guest on our AbraCORNdabra Collectible Coin Series for 2020.  We have decided to not send out ANY clues this year for our Mystery Magician. We are truly honoring this man whom which many may never have heard of before, but who has such an impressive magical history, you will certainly known his name by the end of the convention.
Here are a few small clues…
This year's MYSTERY MAGICIAN is a….

Living Legend of Magic.
Invented tricks many use today.
Co-founder of a very famous magic company.
Has an unbroken record of performances in one location for more than five decades.
Former National Society of American Magicians President.
Is a helluva nice guy!
For more information about the COLLECTIBLE COIN SERIES – check out the bottom of the "LECTURES" page.
2020 AbraCORNdabra is going to be ROARING GOOD TIME!
****************************************